Once again, 27-year-old YouTuber Fifi Panayiotou, or simply "Fidias", has landed himself in a significant predicament. This time, he, along with three fellow international YouTubers, is under investigation for traveling in trains in Japan without proper tickets. For context, this incident was part of a challenge video that Fidias uploaded on October 20, 2023, titled "I Travelled Across Japan For Free."
The YouTuber, along with another creator named Harry "Night Scape," traveled in separate trains and confined themselves to the train restroom for the entire duration of the journey until they reached their destination.
" class="promoted-img" loading="lazy" width="1440″ height="220″ alt="fortnite-promotional-banner" />
---
YouTuber Fidias sneaks into Japanese hotel to procure free meal
YouTuber Fidiasm, known for his challenge-centric videos, is once again confronting the possibility of legal consequences if he is charged for traveling without purchasing tickets.
In his latest video, the YouTuber not only managed to travel for free, but in the first part of the video, he was depicted as unable to cover the full 680 Yen bus fare, resulting in an encounter with the police.
Additionally, the YouTuber captured footage of himself sneaking into a hotel and impersonating a guest. Eventually, he gained access to the lounge area, where he enjoyed a meal before discreetly exiting.
---
Has the YouTuber Fidias apologized?
Following local reports and widespread criticism from the online community, the YouTuber responded to the controversy by leaving a brief apology in the comments section of the video that sparked the outrage. Here's what he wrote:
"Hello beautiful people I apologize to the Japanese people if we made them feel bad that was not our goal! from now on I am going to be make more research to the cultures we go to and try to prevent this from happening again – I love you all."

Naturally, his video also prompted a wave of critical comments from viewers who expressed their displeasure with his actions. Here are some of the top comments made on the video: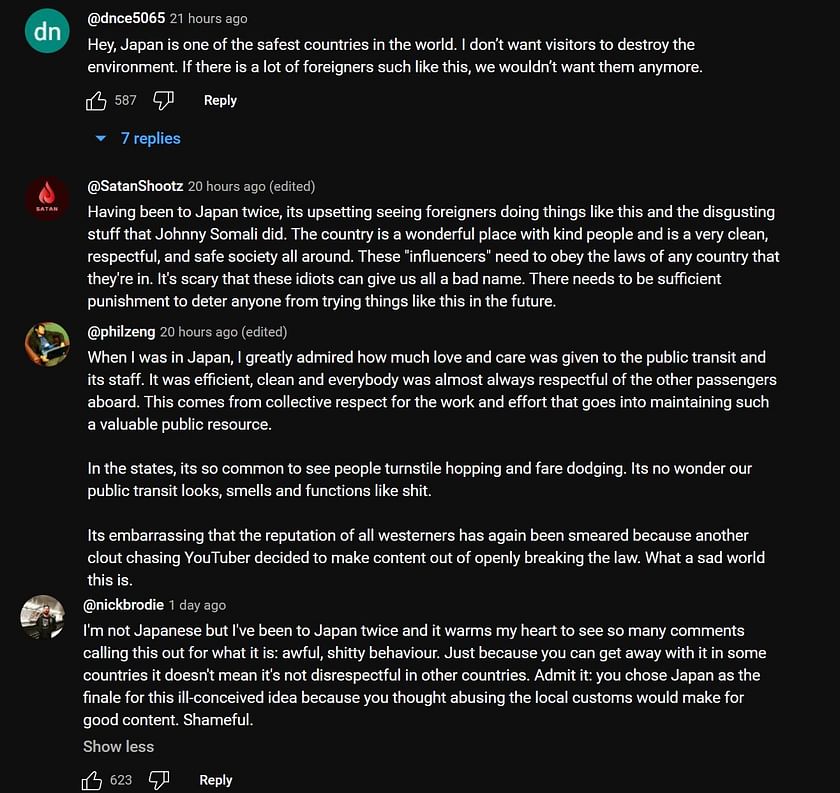 ---
This, of course, isn't an isolated case, as there have been other foreign YouTubers who faced criticism for their actions in Japan. For instance, 23-year-old Kick streamer Ismael Ramsey Khalid, known as "Johnny Somali," also received severe criticism for his public nuisance and disrespectful behavior towards the local people.

link