South Korean low-cost operator Jin Air posted its first quarterly operating profit in more than three years, helped by a rebound in travel demand that has also helped boost the earnings of compatriots Jeju Air and T'way Air.
For the three months ended 31 December 2022, Jin Air reported an operating profit of W11.6 billion ($8.9 million), reversing the W31.6 billion loss posted in the year-ago period.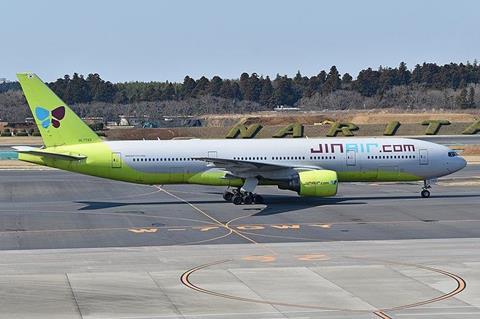 The sister carrier of Korean Air saw revenue more than double year on year, to W225 billion, with more than half of it coming from international operations.
Revenue from flights to Japan made up 27% of the quarterly revenue, a significant jump against the previous quarter when Japan's borders still remained closed to most international travellers.
Costs rose 92% year on year to W213 billion, in line with an increase in flying activity.
T'way, meanwhile, posted its first quarterly net profit since the pandemic, though it remained in the red at the operating level.
The carrier reported an operating loss of W36 billion, significantly narrowing the W295 billion loss in the year-ago period. It rebounded to a net profit of W232 billion, compared to the W296 billion loss in 2021.
Quarterly revenue tripled year on year to W2.1 trillion, with takings from Southeast Asian and Japanese flights increasing the most against the year-ago period.
T'way notes that the number of international flights in the fourth-quarter has recovered to about 43% of the same period in pre-pandemic 2019, while passenger numbers are more than 53% that of 2019 levels.
For the full-year, the three carriers were still loss-making, but were optimistic in their recovery outlook, especially with Mainland China reopening its borders at the start of 2023.
For the year ended 31 December 2022, Jin Air narrowed its operating loss to W67 billion, compared to 2021's W185 billion.
Full-year revenue doubled to W593 billion, while costs rose 53% year on year to W661 billion.
The carrier expects "full business recovery" this year, as coronavirus travel restrictions ease. It recently announced it was restarting Mainland China flights from Jeju, after Beijing scrapped its 'zero-Covid' policy.
Compatriot Jeju Air, meanwhile, posted a full-year operating loss of W178 billion, narrowing the W317 billion loss in 2021. Revenue more than doubled year on year to W703 billion, notes the airline, which did not provide its outlook for 2023.
As for T'way, it reported an operating loss of W1 trillion in 2022, an improvement on the W1.5 trillion loss in 2021.
Full-year revenue rose two-fold to W5.3 trillion, with the airline seeing an improvement in yields amid strong passenger demand for Southeast Asia and Japan flights.
The airline is also in the midst of a capacity ramp-up, stating that its international flights in January are about 78% that of January 2019. Passenger numbers, at almost 408,000, are closing in on pre-pandemic levels too.

link