Wondering which pocket WiFi rental company you should choose in Japan? A pocket WiFi is one of the most important items to travel Japan. Let's compare the prices, device specs and other services.
A pocket WiFi is one of the most important items if you travel to Japan. You can't help but use SNSs like Facebook, Twitter and Instagram, search with Google Maps and talk with WhatsApp and WeChat. It's hard to travel foreign countries smoothly without the Internet connection.
I'd like to find out which pocket WiFi rental company is the best in Japan for you to take it with the best deal. Spend your travel budget wisely.
Here are the comparisons of 7 popular pocket WiFi rental companies in Japan. Rental rates, data usage amount, data speed, battery life, delivery speed and how easy to pick up and return are compared under the same condition:
Pick-up Location: Airport
Rental Term: 14 days
Option: Extra mobile battery
These 7 pocket WiFi rental companies allow you to pick up a WiFi unit at your hotel, but quite a few people think it's too difficult to get to their hotels from airports without it. So I believe that pick-up at arrival airports is the most agreeable option.
I think a power bank is as necessary as a pocket WiFi router. If you connect the Internet all day, the battery of the WiFi router is fully drained. What do you think if you run out of the battery and cannot search the restaurant for dinner? Take one mobile battery at least in Japan.
(The information below updated in May, 2023.)
---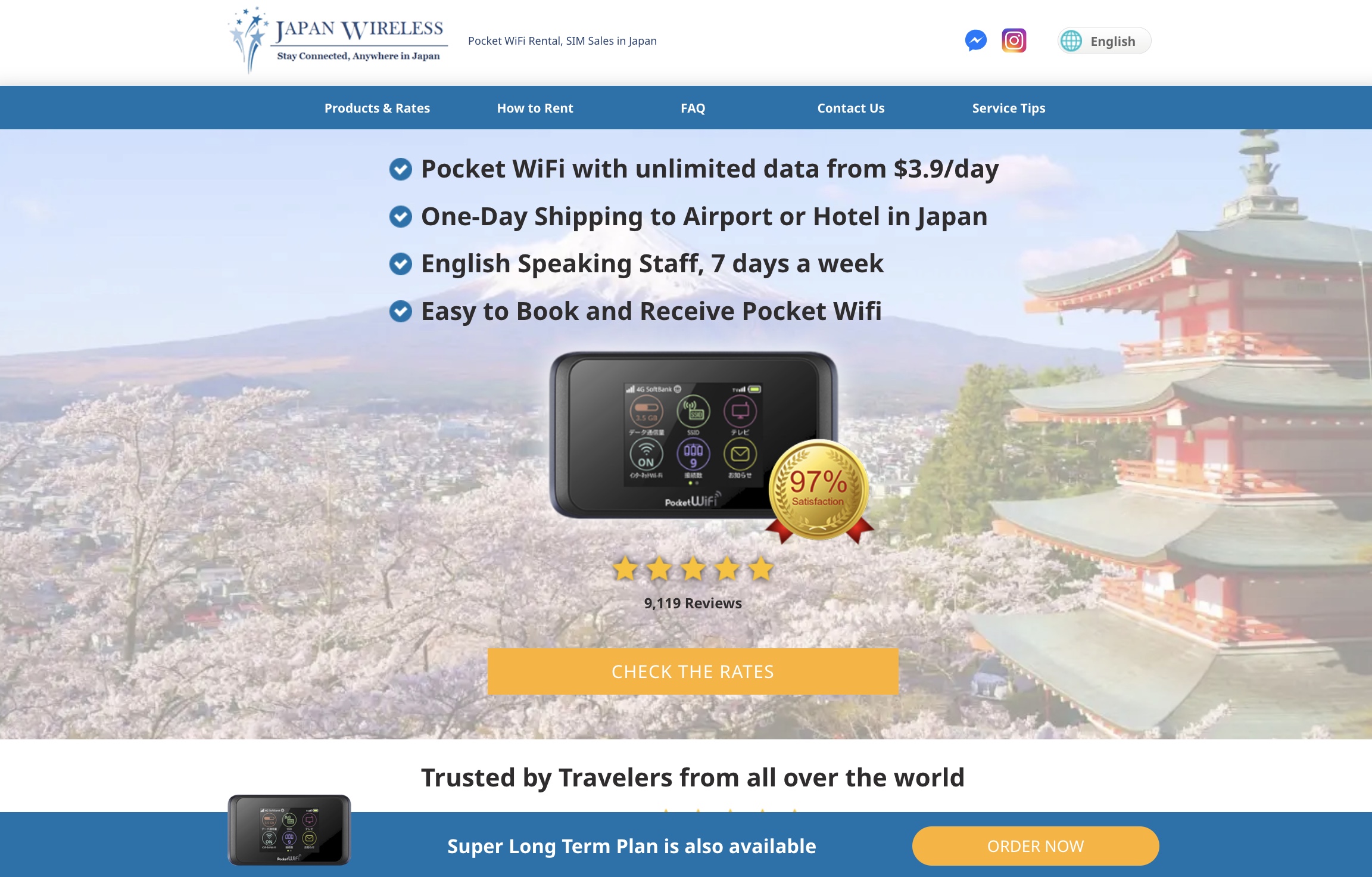 Japan Wireless is the most recommended pocket WiFi company in Japan, achieving over 800,000 rentals to customers from all over the world. It has 2 kinds of WiFi routers, and both are completely unlimited 4G LTE data usage plans. You can literally use the 4G Internet without data limitation.
For faster data speed, longer battery, and wider coverage, Premium Wi-Fi is more recommended. It offers an extra mobile battery for free and you are never charged for a cancellation fee before shipping if you want to cancel for any reasons.
Special Offer: all orders with Japan Wireless are 20% discounted using this coupon code!
Coupon Code: JPW001
Get the best deal right now here!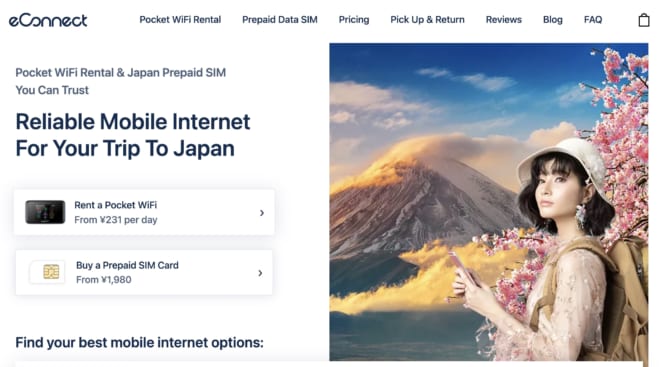 There are three data usage plans from 20 GB to 100 GB with 4G in eConnect Japan. The WiFi connection allows you to use the 4G Internet for 20 GB, 50 GB or 100 GB during your renral. You need to be careful about the given usage data limitation if you share it with some people or use much data watching videos and downloading apps and others.
This pocket WiFi rental company provides you with a free mobile battery, which help you to use the WiFi outside all day. It's also OK for you to return at different locations from pick-up. eConnect Japan also offers SIM cards with several data plans from 500 MB to 10 GB.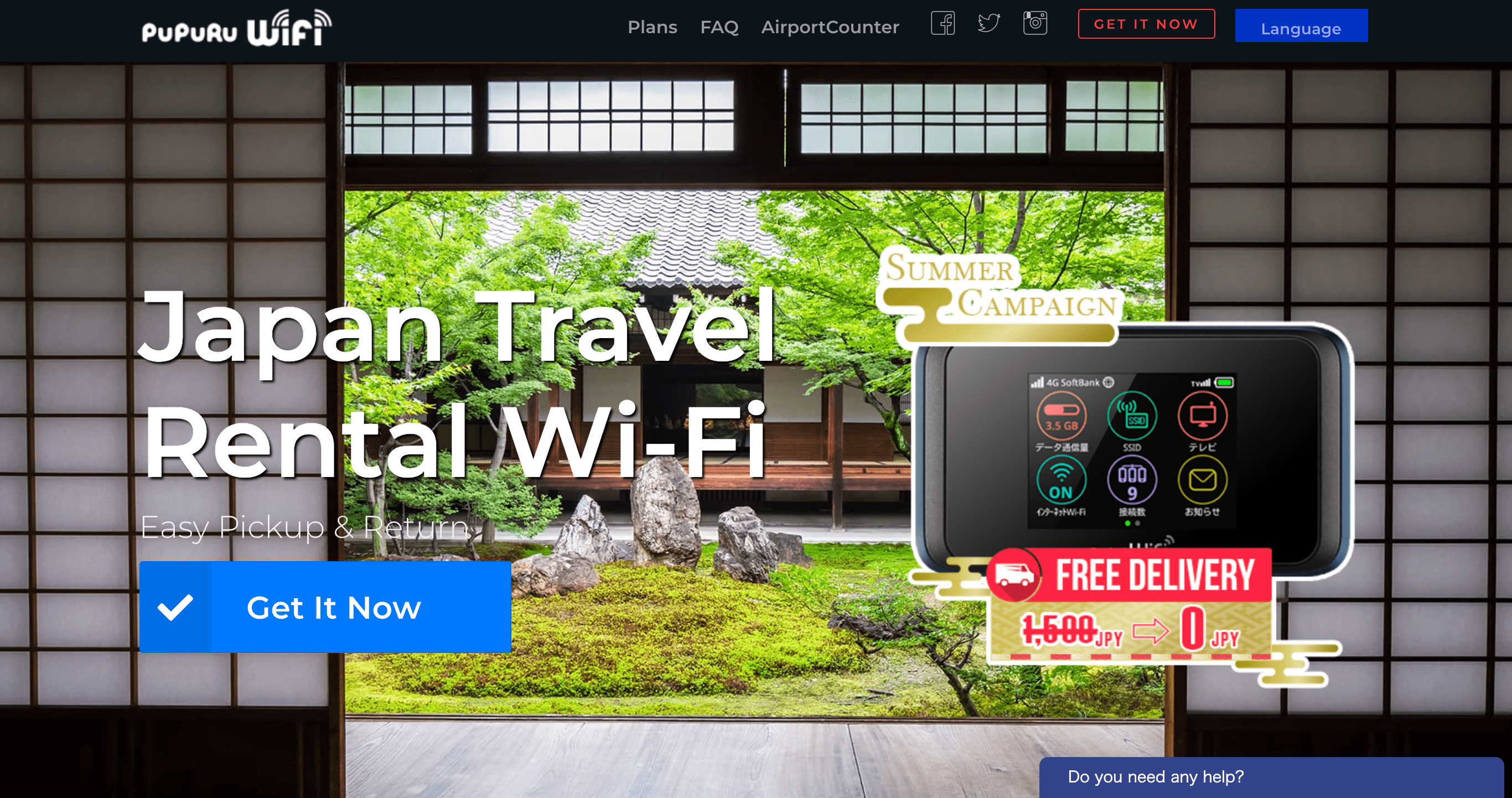 *From the standpoint of quality network maintenance and fair use of radio waves, data speed of the device will be limited in the case of large-capacity communication that occupies an extremely severe network (according to the website).
There are two 4G LTE unlimited plans in Pupuru WiFi: the Hi-Speed plan good for city areas and the Broad-Coverage plan good for suburban areas. The latter one is a little more expensive than the Hi-Speed plan. This WiFi rental company also lends the translator device POCKETALK for 400 yen per day.
The company frequently provides the mobile WiFi at a discounted rate. Please be noted that the data speed may drop down depending on the condition of the network.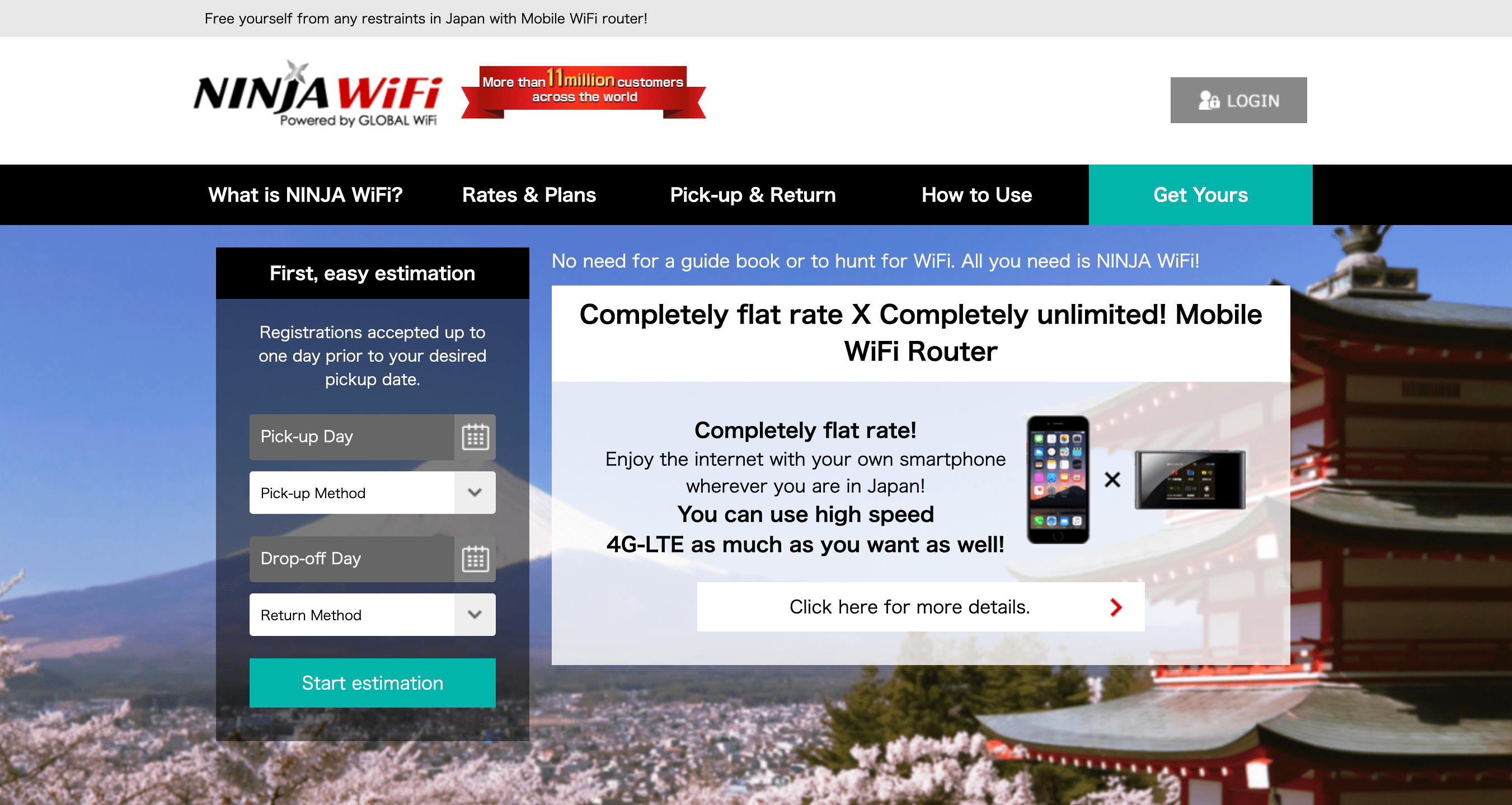 *The communication speed will be limited to 128kbps and slow down if it is exceeded 10GB per day (according to the website).
There are three pocket WiFi plans in NINJA WiFi for 3, 5 and 10 GB per day. For a heavy Internet user, it is recommended to hire the 10 GB plan. You can use up to 10 GB per day with high speed data. The WiFi company also serves useful optional items such as a voice translation device POCKETALK W and international adapter plugs.
You can also pick up at hotels or return from convenience stores or airport delivery service counters with additional fees.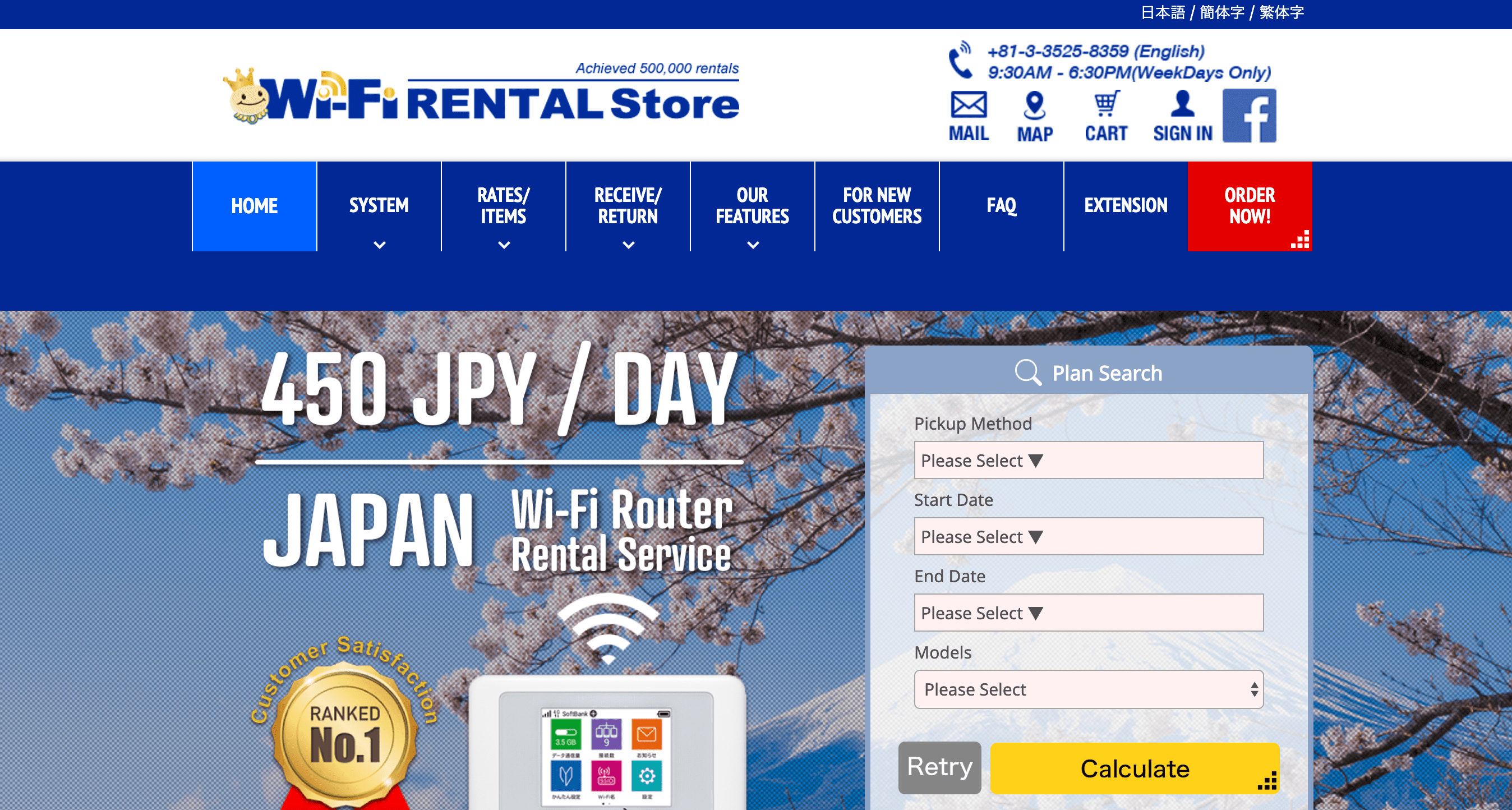 *There is an additional charge of 550 yen for pickup at the airport, which is included in the above fee.
Wi-Fi Rental Store serves three plans of 4G pocket WiFi. Its latest model device has the fastest connective speeds 612Mbps (Download). If you want to use WiFi a lot of time, please note there is a data usage limitation (20 GB per month) and the battery life is shorter than other modems.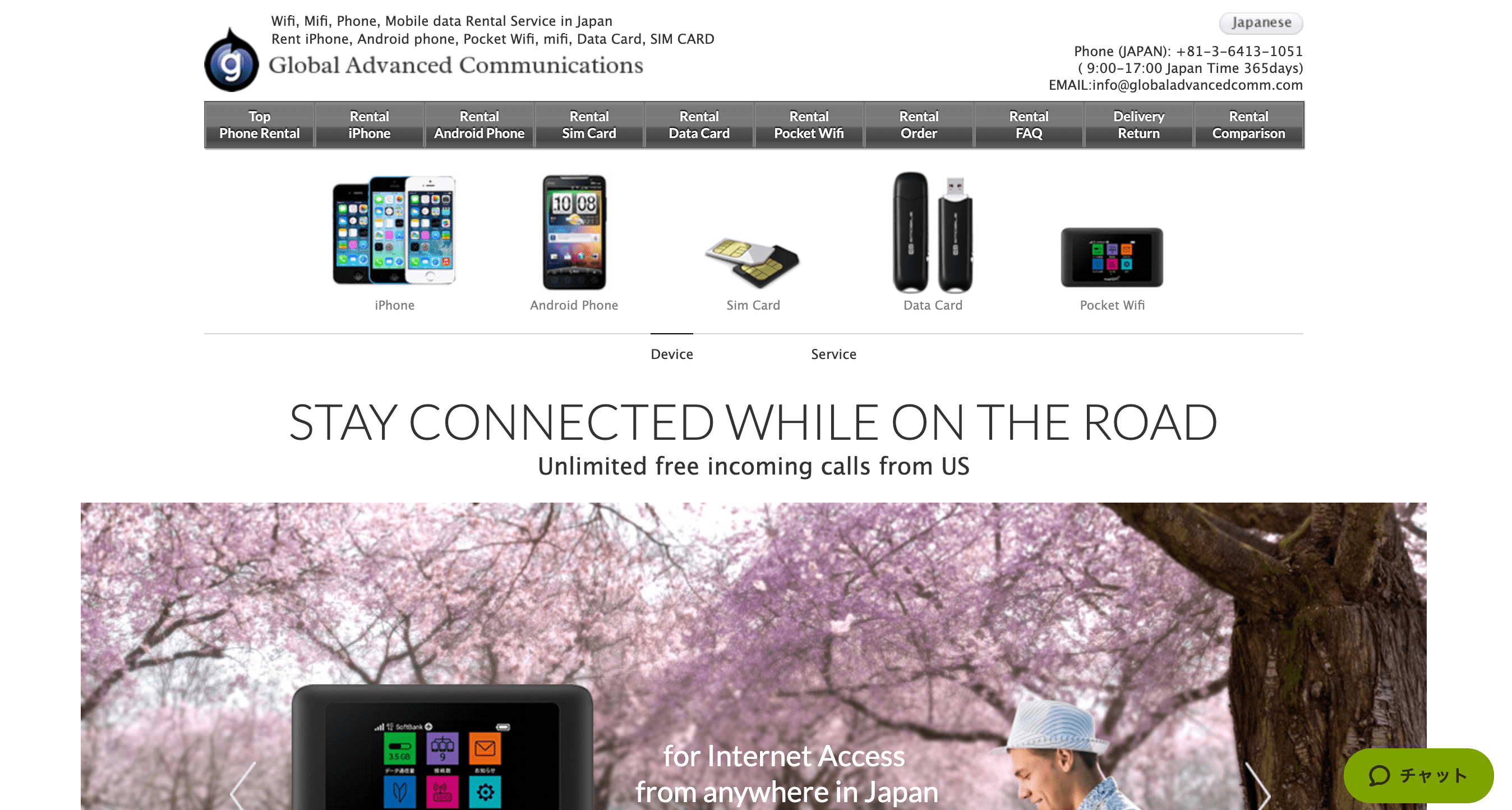 *Although we advertise that the WiFi provides unlimited data, your internet connection may be throttled by the network provider when you consume a large amount of data in a short period.This is due to the fair use policy, which is common with mobile internet devices. In order for you to enjoy your trip, we recommend using the pocket WiFi for a relatively light internet activity (according to the website).
Global Advanced Communications offers a few plans: Super Premium Pocket Wifi and PremiumPocket Wifi. For example, the information of Super Premium Wifi is like above. Global Advanced Communications also provides an extra mobile battery for 800 yen and an insurance for 500 yen.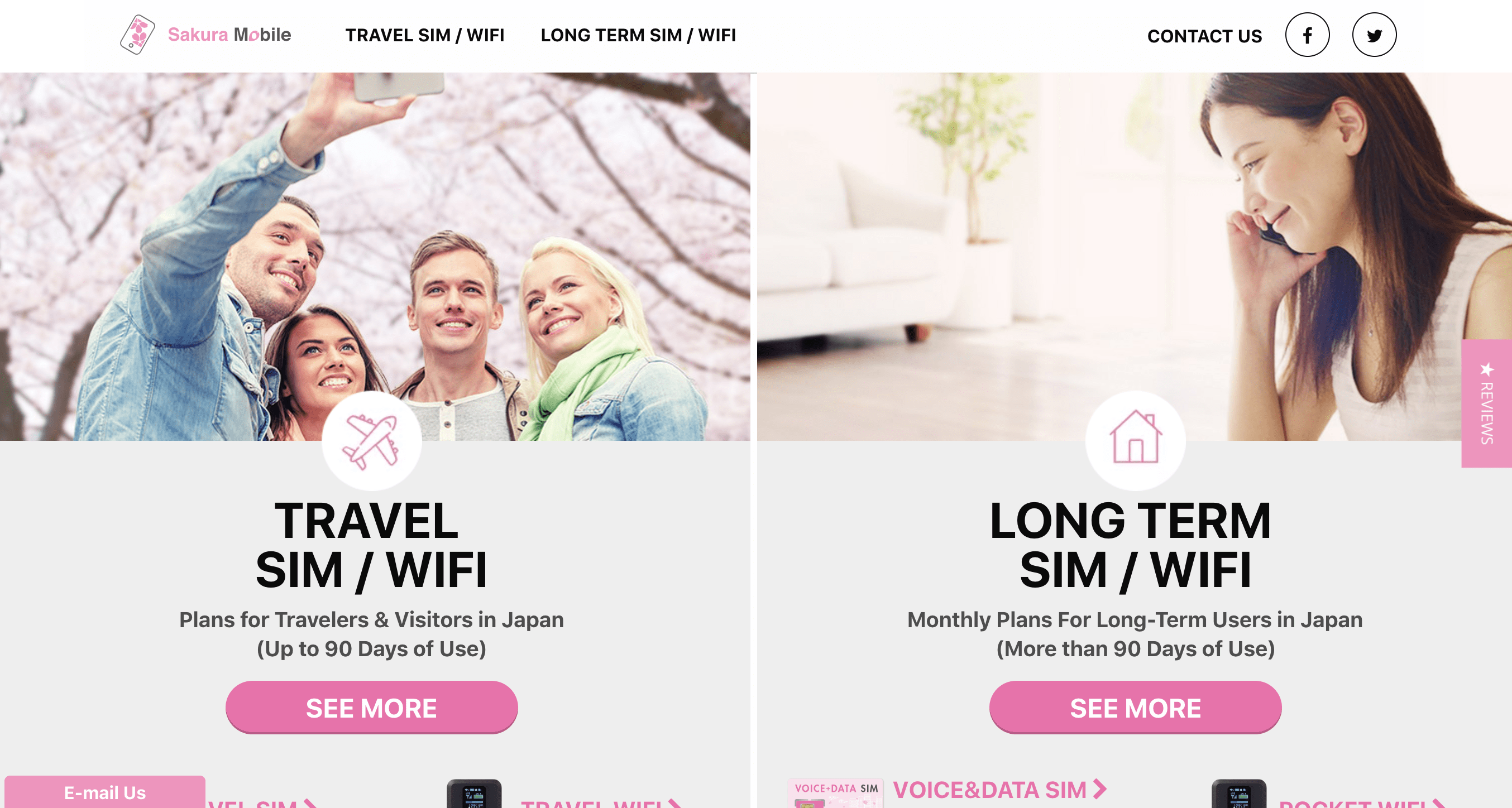 Sakura Mobile offers a 4G pocket WiFi plan with the unlimited data usage. If you connect to the WiFi to use the Internet in many ways including watching movies and talking through Skype and other VoIPs, the unlimited option may be suitable for you. There are also three SIM cards available for 8, 15 and 30 days.

Should you take insurance?
Do you worry about loss or damage of your pocket WiFi? You just maybe drop a WiFi router on the ground or have it stolen though Japan is a safer country. Some companies offer insurance options which cover full compensation or a part of it like 50%, 75%.
Just in case, it is recommended to take an insurance to avoid being charged for much more expensive compensation fee than the amount of WiFi rental fee.
▽For any further question about a pocket WiFi, check out this FAQ list!▽
Conclusion
The best pocket WiFi depends on what you want to do with WiFi in Japan, however, it is definitely better to choose the unlimited data usage at an affordable rate. And, easy pick-up and return services will help you in the strange country. At rental periods, all you need is put the package in a post box or post office anywhere in Japan.
There are many different pocket WiFi rental services in Japan, so you may be at a loss as to which one to choose, but please refer to the recommended services above and choose the one that best suits your needs.
Take a wonderful trip to Japan staying connected with useful pocket WiFi devices!!
---
▶︎Read this article in Spanish
▶︎Read this article in French
▽To find a perfect rental option for pocket WiFi by area, check these articles below▽
▶︎Best Pocket WiFi in Tokyo
▶︎Best Pocket WiFi in Narita Airport
▶︎Best Pocket WiFi in Haneda Airport
▶︎Best Pocket WiFi in Osaka
▽Related Articles▽
▼Editor's Picks▼

link