If international raiders are ever to put an end to local dominance of the Japan Cup (G1), this might be the year.
The last foreign horse to salute the judge in Japan's top international race was Kentucky-bred and British-trained Alkaased in 2005. The following year, Deep Impact  returned the trophy to local shelves and there it has remained ever since.
In recent years, the dominance was aided by pandemic-related travel complications. But the quality of Japanese horses had a deep impact, too. Case in point: 2020, when Almond Eye  ended her illustrious career with a victory with that year's undefeated Triple Crown and filly Triple Crown winners Contrail and Daring Tact  second and third.
This year, not so much.
While Daring Tact is back for the Nov. 27 renewal at Tokyo Racecourse, she comes to the race winless in six starts since that Japan Cup third two years ago. Uberleben won the 2021 Yushun Himba (Japanese Oaks, G1) but she has not even made the frame in six starts since then.
Sign up for BloodHorse Daily
The best of the local lot may be Shahryar , who would be a force to be reckoned with at his peak, and potentially progressive Danon Beluga.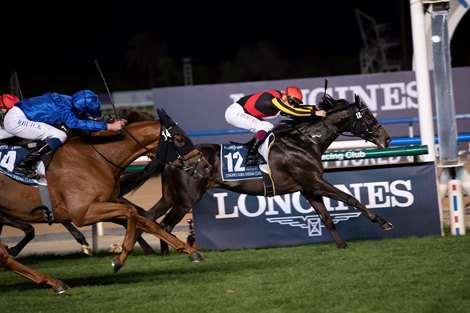 Shahryar wins the Dubai Sheema Classic at Meydan
Shahryar, a 4-year-old by Deep Impact, won the 2021 Tokyo Yushun (Japanese Derby, G1) and finished third in the Japan Cup. He started the 2022 campaign win with a victory in the Longines Dubai Sheema Classic (G1) over Longines Breeders' Cup Turf (G1T) and Eclipse Award champion Yibir . That high point, however, was followed by a fourth-place finish in the Prince of Wales's Stakes (G1) at Royal Ascot and a fifth in the Tenno Sho (Autumn) (G1) after a summer break.
Trainer Nobyuki Tashiro remains optimistic a turnaround could be at hand.
"Having raced, he's sharpened up," Tashiro said. "He's leaner, with good muscle tone, and everything is going smoothly. This has been our biggest goal of the autumn campaign. He has improved considerably and my expectations are very high."
Danon Beluga, a 3-year-old by Heart's Cry , makes just his sixth start and seeks his third win but first at the grade 1 level. He was third in the Oct. 30 Tenno Sho and, following that, his connections opted for the Japan Cup over the Dec. 11 Longines Hong Kong Cup (G1).
"The Tenno Sho was decided in the very fast final three furlongs," said Danon Beluga's trainer, Noriyuki Hori. "So after that race, I kept him at the training center and kept an eye on him to be sure everything was well.
"At first, he was pretty quiet and seemed tired. But he's eating up all his feed and he's back physically to where he was before the race."
The invaders come with at least equally impressive credentials and one, Grand Glory  already has taken the measure of Shahryar, finishing third in the Prince of Wales's, a head in front of that rival. The 6-year-old mare also has the advantage of a previous run in the Japan Cup after finishing fifth last year. She exits a late-running, fifth-place finish in the Qatar Prix de l'Arc de Triomphe (G1)—an effort good enough to have surprised her trainer, Gianluca Bietolini.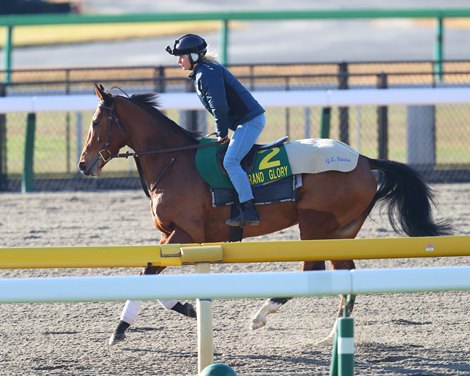 Grand Glory trains ahead of the 2021 Japan Cup at Tokyo Racecourse
"The Arc is a tough race and the track condition was testing," Bietolini said. "Despite that, Grand Glory was able to turn in a terrific finish from racing in good position near the rear. I think she is one of the top group 1 mares. Her fifth in the Arc is more than we had expected and we are very pleased with the result."
Top-rated among the foreigners, at 123, are the 3-year-old, French-trained Frankel  colt, Onesto , and Germany's Tunnes . Simca Mille , a Tamayuz  colt, completes the quartet.
Onesto won the Grand Prix de Paris (G1) by a neck over Simca Mille at Longchamp on Bastille Day. Onesto was last seen finishing 10th in the Arc while Simca Mille's last start produced a victory in the Qatar Prix Niel (G2) on Arc Preview Day.
Tunnes, winner of his last five starts, has an opportunity to make another global statement for his native land. His 10-length victory in the Grosser Allianz-Preis von Bayern (G1) Nov. 6 at Munich indicates he is in fighting form and Germany's top jockey, Bauyrzhan Murzabayev, is in to ride for trainer Peter Schiergen.
Schiergen said Tunnes is "very fresh, having only three starts this year. So I think he has a good chance of winning the race."
"Tunnes is a horse with so much potential," Murzabayev added, "and all of his races, especially his last start, were incredible. I'm sure the Japanese horses are all strong candidates but I think we have a chance to win."
This year's encouraging turnout by foreign connections may have been aided by completion of an international quarantine barn at Tokyo Racecourse. The opening of that facility eliminates the need for overseas arrivals to detour to a racing school for quarantine before they could test the course they will face on race day.
"The new international stables are exceptional," Bietolini said. "Last year, we had to go through quarantine at a different place but, this year, everything is done here and going smoothly."
link