It's cliché to say you could spend forever in Japan and not get bored. What I will say is that two weeks in Japan will never feel like enough, but makes for a great introduction to this endlessly fascinating country. Using the Japan Rail pass, you can take in the lights and buzz of Tokyo before experiencing the country's rich local culture. 
This two-week Japan itinerary takes you on a round-trip from Japan's delightfully disorienting capital, whisking you from castle towns in the north to the cities of Osaka, Kyoto and Hiroshima in the south – and finishing off with a relaxing break in the hot spring town of Beppu. You'll travel the length of Japan's main island of Honshu and experience the onsen island of Kyushu, visiting craftspeople, rolling through rice paddies, marveling at mountain temples, feasting on local specialties like okonomiyaki – and much, much more.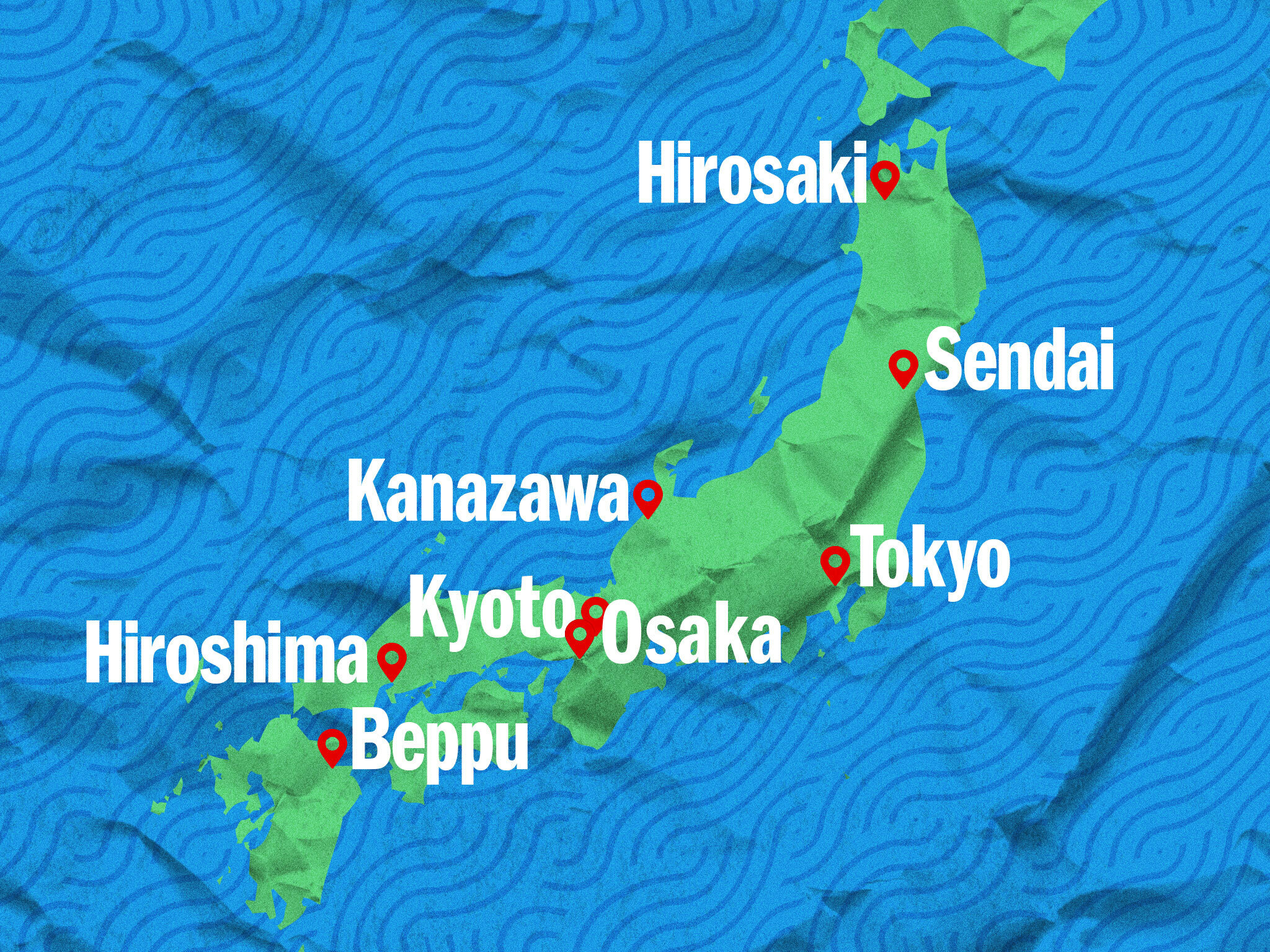 Spoiler: some of the best places in Japan are the ones that you stumble upon in between hitting the major attractions. Do treat this as a guide and feel free to go your own way – that's the flexibility the Japan Rail Pass can offer (more on that below).
How to travel around Japan
There's no more natural way to travel in Japan than by train. I've traveled extensively from north to south using Japan's famously efficient, modern rail system, which reaches nearly every corner of the country. 
For maximum freedom and flexibility, a rail pass is a great way to go. The best pass for visitors is the Japan Rail Pass or JR pass, an all-inclusive ticket covering almost any Japan Rail train in the country – including most high-speed trains. 
The current price for a 14-day adult pass purchased outside of Japan is ¥47,250 (£275, $341); ¥52,960 (£302; $380) if purchased inside Japan. Note that the price will rise in October 2023 to ¥80,000 (£457; $575) for a 14-day pass. Before the increase, the pass is excellent value; after the hike, the pass is still a good choice if you want to travel all over Japan, visit several different places, and plan to spend no more than a few days in each location. 
You should order your passes well in advance of your trip, as shipping can take a while. Note that passes are only open to foreign visitors, and cannot be purchased by residents of Japan or those with Japanese passports. 
If you'd rather concentrate on seeing one area, a regional pass is a good bet. Choices include the JR East Pass (Tohoku), the JR Tokyo Wide Pass (Area surrounding Tokyo), the JR West All-Area Pass (Western Honshu), as well as passes covering Kyushu, Shikoku, and Hokkaido. 
The following itinerary uses the nationwide Japan Rail Pass.
Selena Takigawa Hoy is a Japanese-American writer based in Tokyo. At Time Out, all of our travel guides are written by local writers who know their cities inside out. For more about how we curate, see our editorial guidelines and check out our latest travel guides written by local experts.
RECOMMENDED:
🇯🇵 The best things to do in Japan
🏨 The best hotels in Japan
link