It's the moment we've all been waiting for. As announced last month, Japan opened its borders today, Oct. 11, which means most travelers can resume traveling to one of the most sought-after tourist destinations in the world. So how can you get there on the cheap? Let's have a look …
Nearly three years ago, Japan closed its borders to foreign travelers at the beginning of the COVID-19 pandemic in early 2020. Since then, we've only seen a limited relaxation of entry rules.
Japan started allowing business travelers and students in March of 2022. This summer, the country tried an odd program that allowed tourists to enter as long as they were part of a guided tour – and had a daily cap of 50,000 arrivals. Starting in early September, some self-guided tours booked through registered travel agencies were allowed. But none of these restrictive options really appealed to the majority of travelers.
Needless to say, a regimented travel schedule is not everyone's cup of tea – and the good news is that you can now visit Japan without any pre-planned activities or the need to book specific tours. In short, it's now much easier for independent travelers to explore Japan's spectacular culture.
Here's how to do it.
Japan Entry Requirements
Visa-free travel is allowed for U.S. Citizens (and dozens of other nationalities) who are fully vaccinated with at least three doses of approved vaccines. No testing is required for vaccinated travelers.
Unvaccinated travelers need to take a pre-travel test in order to enter Japan.
The requirements for children traveling with parents also depend on the vaccination status of the parent or guardian. If the parent is vaccinated, no testing is required for children aged six to 18 years old, while a test is required if the parent is unvaccinated. Children under six years old do not need to take a test.
In either case, you'll need to fill out a questionnaire before your flight. The Japanese Ministry of Health, Labour, and Welfare recommends using its Fast Track system for a seamless experience at the airport.
This is basically an app or form that verifies the documents required for entry. You'll simply show the screen of your phone or a printed copy for the officer to review at the airport.
There is no quarantine required to visit Japan.
For the latest and complete requirements, be sure to check out the U.S. Embassy & Consulates in Japan website as well as the Ministry of Foreign Affairs of Japan.
What to Expect When Traveling to Japan
Do you need to wear a mask?
Generally speaking, plan to wear a mask while you're in Japan.
This includes your flight to Japan, at the airport, on public transportation, and indoor facilities including restaurants. You'll likely see the majority of locals masked up outside as well but it will be more prominent indoors.
Japan's health department states that it is not required to wear a mask if you are more than approximately two meters apart from others – whether you're indoors or outdoors – but you may stick out like a sore thumb if you're milling around in crowded indoor spaces without a mask.
Even before the pandemic, Japanese citizens have been known to wear masks in public. It's one of the biggest cultural differences you'll notice in Japan compared to the U.S. I wouldn't let this hinder your plan to visit, but be prepared to mask up when traveling in Japan.
What's open in Japan?
Most tourist sites, restaurants, and museums are open in Japan. You may notice plastic dividers are still in place from the pandemic in many locations, but you should be able to enjoy many of the same activities you used to when visiting Japan pre-pandemic.
If you're visiting Tokyo, that means you'll be able to experience the nightlife in Shibuya or Shinjuku, stop at a unique cafe in Harajuku, or visit the oldest temple in the city, the Sensoji Temple.
Read more: A Beginner's Travel Guide to Exploring Tokyo, Japan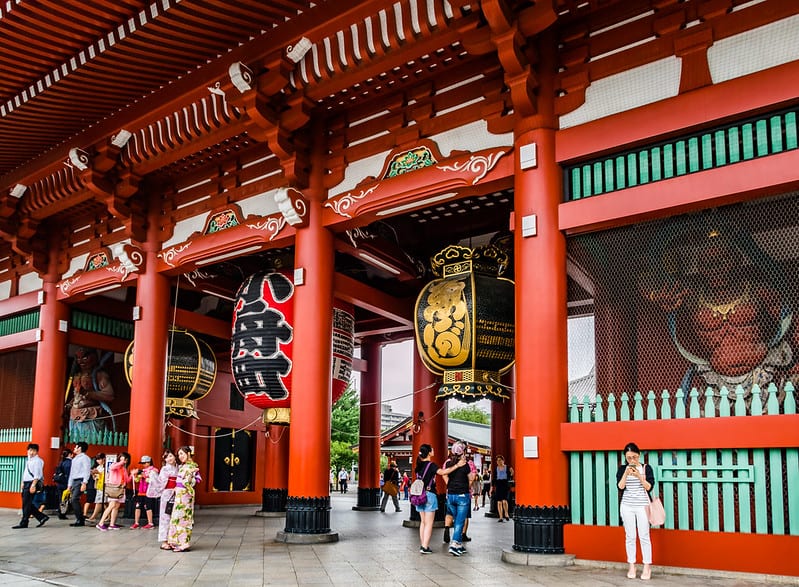 How to Find Cheap Flights to Japan
We saw some astonishingly low fares to Japan during the pandemic. Sometimes as low as $200 roundtrip. Don't let that dilute what you consider a good deal to Japan.
Unfortunately, the average traveler was never able to actually take advantage of those crazy low fares that were sold during the pandemic since Japan never truly opened for tourists. That's changed now.
While we'd love to see fares to Japan drop below $300 again, it's not something we should really expect given the current travel climate. The fact is airlines have drastically cut schedules to Japan since the demand to visit has fallen. Simple economics have made it harder to find flight deals to Japan lately.
But things are looking up. Airlines are once again ramping up schedules since Japan has announced its reopening. As travel demand comes back, so will the most important factor in keeping flight prices low: Competition among airlines.
If you're looking for a cheap flight to Japan, you'll want to keep these tried and true tips in the back of your mind.
Fly mid-week: There isn't a best day to book flights, but the cheapest days to fly are generally during the middle of the week. For flights to Japan, look to travel on Mondays, Tuesdays, Wednesdays, or Thursdays.
Travel during the off-season: Avoid the crowds (and save on flights) by traveling during the shoulder season. For Japan, this is typically mid-January thru March and September thru mid-December.
Fly from low-cost hubs: There aren't many budget carriers flying across the Pacific but newcomer ZIPAIR is shaking up the market with flights from Los Angeles (LAX), Honolulu (HNL), and San Jose (SJC) to Tokyo (NRT). While you may not want to fly a low-cost carrier, the presence of ZIPAIR means you'll often find the cheapest flights (on any airline) from California or Hawaii.
Take a positioning flight: Don't live on the West Coast? You may want to book a separate positioning flight within the U.S. in order to get to a gateway where there are cheaper flights to Japan.
Lean on your points and miles: If fares are high, it could be a good time to use your points and miles for a flight to Japan. This can save you thousands of dollars if you're looking to fly up in business class and it can also save a bundle when flying economy.
Say you're looking for a flight to Japan from Minneapolis-St. Paul (MSP). Searching Google Flights, you'll normally find cash tickets to either Tokyo-Haneda (HND) or Tokyo-Narita (NRT) that cost over $1,000 roundtrip.

But nonstop flights from Los Angeles (LAX) to Tokyo could be just under $600 roundtrip.

Combine that with a flight from Minneapolis to Los Angeles for a little more than $200 roundtrip and you could save $500 or more by taking the positioning flight to LA and a separate ticket to Tokyo. Plus, you could schedule your flights so you have a few nights in Southern California and make it a 2-for-1 adventure.
If you turn to your points and miles, you could book flights on American Airlines starting from only 32,500 AAdvantage miles each way during off-peak seasons or 35,000 miles one-way during other times.
That's just 65,000 miles roundtrip plus around $55 in taxes and fees to fly to Japan and back. And it works from anywhere in the U.S., whether you're flying nonstop from Los Angeles, with a connection from Minneapolis, or taking multiple stops from a regional airport on the East Coast.
Read more: 6 of the Best Ways to Book Flights to Japan with Points and Miles
Flying from the West Coast? It can be even cheaper if you want to fly Delta from Seattle (SEA). Using Virgin points to fly Delta, you can fly nonstop from Seattle to Tokyo for only 55,000 Virgin points roundtrip – and that's for a main cabin ticket. It's one of our favorite ways to book Delta flights using points and miles.

Looking to fly business class? Historically, one of the easiest ways to book a lie-flat seat across the Pacific is to fly Japan Airlines business class. You can book those seats for just 60,000 American miles or Alaska miles one-way. You just need to find the award availability in order to book.
Read more: The Basics of Booking First & Business Class with Miles
Recent Flight Deals to Japan
While we haven't seen as many flight deals to Japan as we used to see pre-pandemic, that doesn't mean there haven't been any. In fact, after a long lull, we've started to see Japan deals pop up since the news of reopening has become more clear.
Just a few weeks ago, we sent Thrifty Traveler Premium members in Los Angeles a deal for nonstop flights on American Airlines to Tokyo for $599 roundtrip.
Last month, we unearthed some rare award space to fly United Polaris business class from Newark (EWR) and San Francisco (SFO) to Tokyo. A points transfer bonus from American Express at the time meant these flights could be booked for as little as 66,000 Amex points one-way when transferred to Air Canada's Aeroplan program. It was also possible to book for 85,000 ANA miles roundtrip via the ANA Mileage Club.
But the best deal we found recently was a bit of a unicorn. Last week, Thrifty Traveler Premium members were given the heads up to book ANA First Class seats from Los Angeles to Tokyo for 55,000 Virgin Atlantic points one-way.
This deal only lasted an hour or two before all of the available seats were booked. Best of all, a 30% transfer bonus from Chase to Virgin allowed this to be booked for as little as 43,000 Chase points one-way.
Want award space alerts like this, plus cheap domestic and international fares? Try Thrifty Traveler Premium now!
Past Deals to Japan
If past deals are any indication, we could see some more widespread deals to Japan appear in the coming months now that the country is open.
Before the pandemic, we would occasionally see roundtrip flights from all over the U.S. to Japan in the $500 – $700 range, like this nationwide deal we sent in May of 2019 with fares starting from $555 roundtrip.
Bottom Line
Japan is now open for travel as of Oct. 11. No testing is required for vaccinated travelers, which means you can travel to Japan much like you used to back in 2019.
You'll need to pack a mask and fill out a form before you travel, but the lifting of travel restrictions is welcome news for travelers looking to visit Japan for the first time in nearly three years.
link