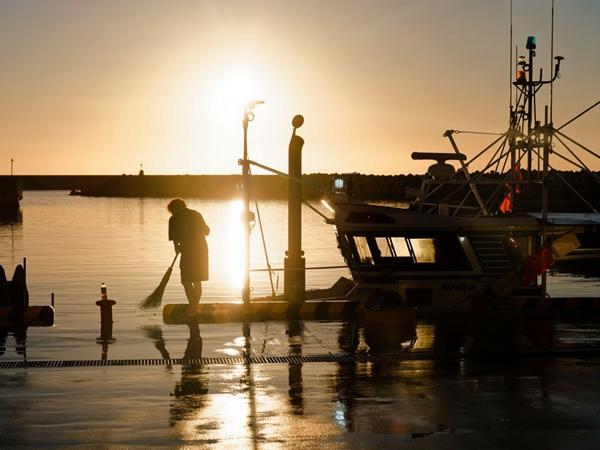 A fisherman cleans at Tsurishihama Fishing Port after fishing in Shinchi Town, Fukushima Prefecture, Japan, on Aug. 23, 2023. [Photo/Xinhua]
Japan's move to discharge nuclear-contaminated water from the Fukushima Daiichi Nuclear Power Plant into the ocean from Thursday has prompted some Chinese tourists and tourism agencies to reconsider their travel plans to the country.
Japan is among the third batch of countries that are allowed group tourism from China following the easing of COVID-19 restrictions as announced by Chinese authorities on Aug 8. But growing enthusiasm for visiting Japan could be dampened by the wastewater release.
"I have received quite a number of inquiries on trips to Japan in recent weeks, but news of the nuclear-contaminated water will definitely affect tourism to the country," Di Mingyang, an employee at a travel agency in Beijing, said on Sunday.
According to online travel services provider Trip.com Group, searches for trips to Japan had surpassed Thailand and Singapore to come on top on a list of favorable overseas destinations as of Aug. 17, and bookings for group tours in Japan had increased significantly this month compared to July.
However, Japan's release of wastewater has prompted health concerns and condemnations from Chinese customers.
"Personally, I would not promote traveling to Japan," Di said. "It is impossible to not eat Japanese-made food in Japan, and what if that food contains hazardous substances?
"It strikes me as reckless behavior for a country to discharge radioactive water into the ocean. I oppose such an action, so I won't recommend traveling there," she said.
A travel agent based in Wuxi, Jiangsu province, surnamed Dai, said that the number of self-guided tours to Japan has risen markedly in recent months, but the sentiment has changed following its decision to release wastewater.
"I feel like everybody is watching the situation and reconsidering," she said.
In 2019, 9.59 million Chinese tourists visited Japan, accounting for 30 percent of its foreign travelers, according to Japanese newspaper Asahi Shimbun.
Li Xiaguang, a 33-year-old accountant in Beijing, said that he used to visit Japan about two to three times a year for sightseeing and shopping.
He has not visited the country for nearly four years due to the COVID-19 pandemic and is planning to travel there during the upcoming National Day holiday from Sept. 29 to Oct. 6.
"I am very torn now," he said. "I've already booked flights and hotels, so cancellations would cost a lot, but my parents are trying to talk me out of going there due to concerns over health and food safety.
"I think I will do more research on the impact of water release before making a final decision."
link