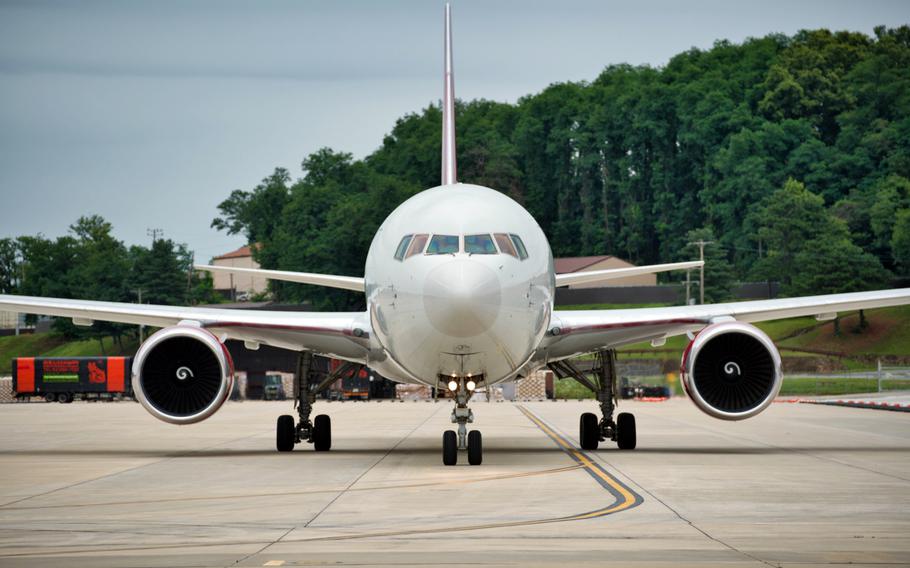 Stars and Stripes is making stories on the coronavirus pandemic available free of charge. See more stories here. Sign up for our daily coronavirus newsletter here. Please support our journalism with a subscription.
Space-available flights for military-affiliated travelers are available again after a two-year pause due to the coronavirus pandemic, the Air Force's Air Mobility Command announced Friday.
The choice to fly Space-A, always somewhat of a gamble, is more complicated still by varying medical restrictions still in place across the globe to curb the spread of COVID-19.
"Medical screening protocols may still apply for travelers heading outside the contiguous United States," said a news release from Air Mobility Command at Scott Air Force Base, Ill. "Members traveling to a foreign country will need to follow any testing requirements listed within the Electronic Foreign Clearance Guide."
Many countries still require travelers to present proof of a negative test for COVID-19 and to quarantine upon arrival. Japan, for instance, still does not permit tourists, including U.S. military members without orders, to enter the country.
Japan increased its daily quota of eligible incoming travelers to 10,000 and also quietly began allowing family members from abroad to visit Japanese citizens or foreign residents, The Japan Times reported April 13.
However, under the status of forces agreement that governs the U.S. military in Japan, U.S. troops, civilian employees and their families are treated apart from the normal visa requirements. SOFA members do not qualify under Japan's requirements for visits from their family members outside Japan, according to an email Friday from USFJ spokesman Air Force Maj. Thomas Barger.
At Yokota Air Base, an airlift hub in western Tokyo and a stop for the Patriot Express, the contracted air service for military travel, Master Sgt. Roderick Jefferson II of the 21st Special Operations Squadron was happy to hear that Space-A is available again.
The flights allow eligible travelers, including service members, civilian DOD employees, retirees and their families, to travel aboard military and contractor cargo and passenger aircraft at low or no cost. Space-A is never guaranteed, and travelers sometimes get bumped.
Jefferson, 40, a native of San Jose, Calif., plans on attending his graduation from Trident University in July at Long Beach, Calif., and visiting his family, he told Stars and Stripes by phone Monday. The low cost of flying Space-A beats the commercial airfare from either of the two international airports serving Tokyo.
"Being able to hop on a Space-A flight rather than fly out of Narita or Haneda is awesome," he said. "We're a family of four and the airfares are pretty expensive, so I'm going to try and capitalize on that."
Its regular route takes the Patriot Express from Yokota to Okinawa almost daily, which is convenient for traveling with his wife, Mika, and their children to visit her family on the island, Jefferson said.
He is not intimidated by the vagaries of Space-A travel, he said.
"But that's what Space-A is. If I don't get selected, I'll just retract my leave," he said. The children, they'll be on summer vacation anyway, so, "it's OK if we're going to California that morning, or we're not."
The temporary end to Space-A travel was part of a wider halt the Pentagon ordered to all but essential military travel on March 24, 2020. Travel for temporary duty and for families moving with their service member to a new duty station was also temporarily curtailed.
At the time, the World Health Organization said COVID-19 had sickened about 330,000 and killed 14,510 worldwide. As of Friday, 505,817,953 people had contracted the disease and 6,213,876 had died, according to WHO.
link