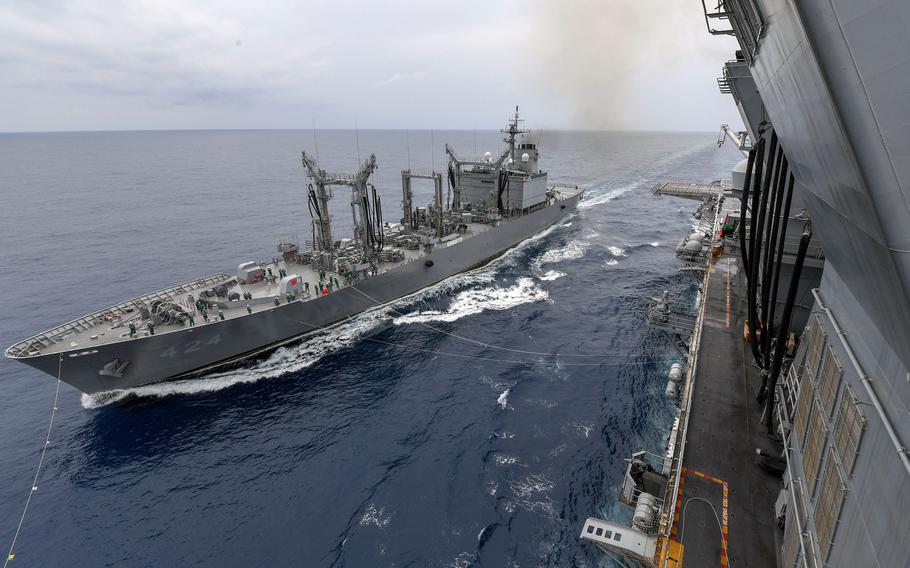 TOKYO – Six Russian ships, three of them military vessels, steamed near the southern Japanese island of Kyushu and through the Tsushima Strait this week, Japan's Joint Staff said Wednesday.
The Russian vessels – three commercial ships along with a Utaloy-class destroyer, an Altay-class replenishment oiler and a Silva-class rescue tug – passed through the 63-mile-wide strait around 9 a.m. Tuesday en route to the Sea of Japan, according to a Joint Staff news release.
The ships were spotted around 9 a.m. Tuesday, approximately 50 miles off the coast of the uninhabited Danjo Islands, which lie about 130 miles southwest of Sasebo Naval Base, the release said.
Japan claims less than 12 miles of territorial sea in the strait to maintain a high seas corridor, according to a 1998 U.S. State Department report.
The Japan Maritime Self-Defense Force deployed a P-1 patrol aircraft from Atsugi Air Base and the guided-missile destroyer JS Shirataka from Sasebo to monitor the ships' passage.
Japan also monitored a Chinese vessel moving off its coast this week. A Chinese navy reconnaissance ship was spotted 9 a.m. Wednesday about 100 miles off Amami Oshima, one of Japan's southwestern islands, according to the Joint Staff.
Later, the surveillance vessel traveled east between Amami Oshima and Yokoate island, about 175 miles northeast of Okinawa. A P-1 and the replenishment ship JS Hamana monitored their passage.
The three Russian commercial ships are affiliated with Gazprom, the Russian natural gas producer, and the military vessels were likely acting as escorts, Kyodo News reported Wednesday.
A combination of military and commercial vessels traveling together near Japan is "very rare," according to James Brown, an international affairs expert at Temple University's Japan campus.
"I can't think of another example in which Russian naval and energy vessels have operated together in the vicinity of Japan," he told Stars and Stripes by email Friday.
Russian maritime traffic around Japan has increased in recent months. Six Russian warships sailed through Soya Strait, which separates Japan's northern island of Hokkaido and Russia's Sakhalin Island, on March 14.
On March 15 and 16, four Russian amphibious ships traveling in pairs were spotted off the coast of Honshu, the largest of Japan's four main islands.
Russian naval activity near Japan can at times be practical, as Russian sometimes moves military assets through Japan's straits toward Ukraine, Brown said.
"However, much of the naval activity is symbolic," he said. "The purpose is two-fold. First, Russia wants to show that, despite its war in Ukraine, its capabilities in the Far East remain undiminished. Second, it is a show of force in the hope of deterring Japan from introducing further sanctions."
link