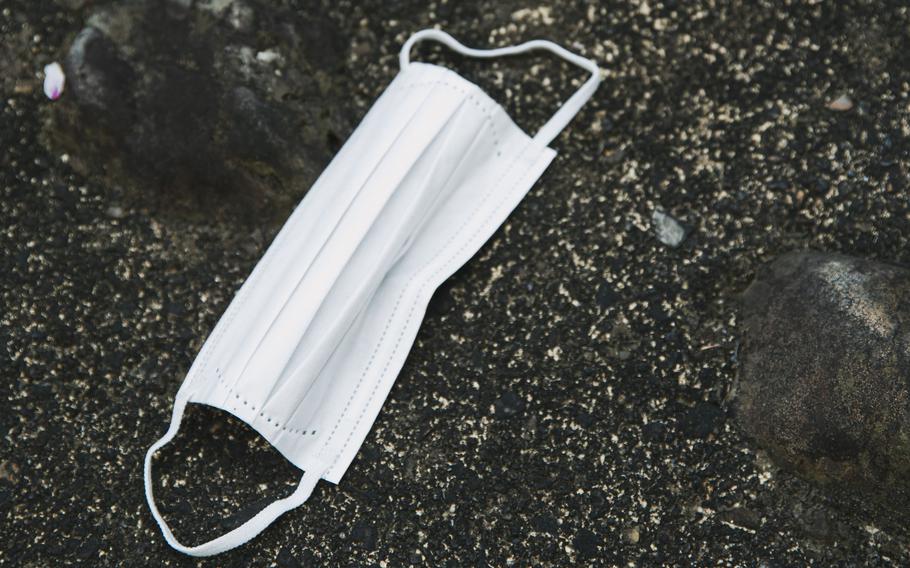 Stars and Stripes is making stories on the coronavirus pandemic available free of charge. See more stories here. Sign up for our daily coronavirus newsletter here. Please support our journalism with a subscription.
TOKYO – New rules for international travelers arriving in Japan took effect Tuesday, including one that drops the longstanding quarantine requirement for anyone fully vaccinated with a booster shot and three negative COVID-19 tests.
U.S. Forces Japan changed its health protection measures to reflect those changes, command spokeswoman Air Force Lt. Col. Brooke Brander said in an email Tuesday to Stars and Stripes.
"Personnel who are up-to-date with COVID-19 vaccinations (i.e., fully vaccinated and boosted) and have negative pre-departure and arrival COVID-19 tests will not incur a ROM and may use public transportation after they receive the results of their negative arrival test," she wrote.
ROM, or restriction of movement, is a looser form of quarantine in which those affiliated with the U.S. military are permitted to quarantine at home and have access to their installations.
Japan announced plans to lower its quarantine requirements and admit more people, mostly international students and businesspeople, on Feb. 18 as the omicron phase appeared to have peaked in Japan. Up to 5,000 people will be allowed entry each day, up from 3,500, still a fraction of the hundreds of thousands estimated to be awaiting entry to Japan, according to The Associated Press on Monday.
A seven-day quarantine period is still the norm, according to Japanese regulations. But three negative tests – 72 hours before arrival, upon arrival and three days after arrival – will end quarantine.
The same applies to unvaccinated individuals, although they must remain in their homes during the three-day period, Brander wrote.
Those who test negative upon arrival may travel by public transportation to their ROM location within 24 hours. They are not permitted public transportation during the remaining ROM period.
Those traveling to Japan by the Patriot Express, the government-contracted air service, or by military aircraft, also must obtain a COVID-19 test upon entry, regardless of vaccination status, according to the email.
Also, the mask mandate is still in place on and off U.S. installations, but individuals on U.S. installations who are fully vaccinated or up to date on their vaccines and can maintain social distancing may do without masks outdoors, Brander said.
The Department of Defense Education Activity in a notice to parents Monday said it was realigning its mask policy at its schools around the globe following revised guidance from Centers for Disease Control and Prevention. The new policy is coming in a few days, DODEA director Thomas Brady wrote.
The CDC loosened its guidelines for communities whose hospitals are not strained due to COVID-19. That means about 70% of the U.S. population may go without masks indoors, including schools, according to a CDC media briefing Friday.
In Japan, tourists are still not allowed entry under the relaxed border controls, according to the Ministry of Foreign Affairs.
Family members of long-term foreign residents of Japan may apply for a visa in some circumstances, but that provision does not apply to the U.S. population under the status of forces agreement. SOFA, which outlines the rights and responsibilities of U.S. military personnel, excludes service members and their dependents from visa requirements, generally.
Non-SOFA family members may enter Japan in some circumstances under a humanitarian visa, according to Brander's email. Humanitarian visa applications are determined on a case-by-case basis by the government of Japan.
On Tuesday, Tokyo reported another 11,813 people had contracted COVID-19, about 2,200 more than Monday and 251 more than one week prior, according to public broadcaster NHK and metro government data. NHK reported 32 people died.
Japan reported 51,016 new infections Monday, 12,607 fewer than the previous day, and 198 deaths, according to the Johns Hopkins Coronavirus Resource Center.
On Okinawa prefecture, another 1,029 people tested positive Tuesday, nearly 2 ½ times the new cases Monday, according to the prefectural Department of Public Health and Medical Care.
The department reported about 300 people are hospitalized out of 5,675 people recuperating from the disease and filling 46.4% of hospital beds available for COVID-19 cases.
Stars and Stripes reported Mari Higa contributed to this report.
link