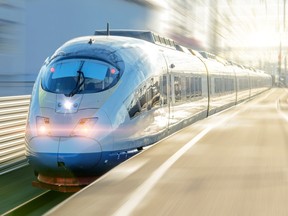 Article content
Thinking about the future and imagining 2023 and beyond, it occurred to me that I've never offered commentary on railways and trains. So, as an effort to envisage a transport future and catch up on an issue which warrants some serious future-style thinking I shall ride the rails a tad.
Article content
I have always been a fan of trains and steam railroad engines. As a child I was privileged to join engineers in huge steam railway engines at CNR's False Creek Flats Yard in Vancouver.
Article content
Engines were large "mountain" types as they had to climb from the Flats through the Cut on one of Canada's steepest railway grades. As a youngster I could even mimic steam train whistles and often caused my father grief as he looked at crossings for oncoming trains. In very early youth I aspired for a train engineer career but then diesels appeared and the romance (and career) vanished.
During the early Depression in 1931, my 16-year-old father jumped a freight out of Vancouver and found farm work in Alberta. That story is recorded in my parents autobiography, "Up The Creek."
Article content
Since launching ElderCollege in 2011 as a program of diverse short courses for seniors I have met hundreds of fascinating people.
Among them one person I have found immensely interesting through some of his volunteer ElderCollege courses involving railroads is Bob Mitchell of Windsor. Bob is one of those fully ebullient people as long as you're talking trains and railways. He has been involved in restoring that lovely Windsor waterfront train engine "The Spirit of Windsor."
No matter where I have travelled around the world if I spot anything resembling a train I take photos, always for Bob Mitchell.
Thus, when my wife and I returned at October's end after a splendid few weeks in France which included two major TGV rides, I sent Bob Mitchell photos. After all a train that can exceed 300 km/h surely would be of interest to Bob. As it happened, I was correct.
Article content
We enjoyed TGV trains from Bordeaux to Paris and thereafter from Paris to Lyon — both four-hour trips and with a top speed of 318 km/h.
TGV, by the way means "Train à Grande Vitesse" or a high-speed train.
Among the informal economic group, the G7 — Canada, France, Italy, Great Britain, Germany, Japan and USA — Canada alone does not have any high-speed rail.
I asked Bob Mitchell if he had thoughts on the reasons why Canada lags in high-speed passenger rail. And so it began, my exploration of how often we've been promised sophisticated high-speed rail and how often politicians have shied away from having the foresight to make a major policy commitment.
Public discussion of a high-speed railway in the Ontario-Quebec corridor seems to have emerged in 1995 when a consultant report suggested that portions of the anticipated corridor route could be constructed to facilitate medium-fast trains (200 to 250 km/h).
Article content
Then in 2008 another expensive $2-million study suggested two alternatives for high-speed passenger rail. A medium-fast diesel traction railway with speeds up to 200 km/h could have been constructed for an estimated $18.9 billion.
A real high-speed electric traction railway with speeds up to 300 km/h could have been constructed for an estimated $21.3 billion.
I suspect that in 2008 referencing costs in billions was a shock for most politicians.
But not to retreat from a crying need and to simultaneously look like a government with a future vision, in 2014 Kathleen Wynne's government announced plans to begin development of a high-speed rail line connecting London and Kitchener to Toronto within 10 years.
The Toronto-London segment was eventually promised completion by 2027 while Windsor might just be acknowledged as part of Ontario with high-speed rail by 2031.
Article content
The significance of high-speed rail, so evident within France, could have an impact upon road traffic between Windsor and Toronto. And if you've had the misfortune to drive Highway 401 much beyond London and especially within the GTA you will appreciate why rail travel makes sense.
Flying Windsor-Toronto has become enormously expensive as airlines seek to recover from Covid's deleterious economic impact.
High-speed rail between Windsor (still part of Ontario) and Toronto and, perhaps on to Montreal, would be a significant life-improvement for many of us. Thanks Bob Mitchell, you understand the value of railways.
link