Photo courtesy of ANA InterContinental Beppu Resort & Spa
As legend has it, a Buddhist monk by the name of Dochi Shoninwas traveling across Japan about 1,300 years ago, in search of healing waters to help cure the ill, when he stumbled upon the small mountainous village of Kinosaki. He was told he needed to pray to the local shrine at Onsenji Temple, half way up Mount Daishi, and on the 1,000 day of prayer, hot water came gushing out of the earth as a token of gratitude from a guardian deity.
Today, the natural hot springs in Kinosaki feel just as magical. A cornerstone of Japanese wellness, onsens (hot springs) have long been a place where friends, family, and community come together and soak in the collective healing powers found in the mineral rich waters.
Travelers continue to make the pilgrimage half way up Mount Daishi to this day (though now you can also take a cable car) to pay their respects. Though it's definitely not required to bow one's head and consider all who've come before, the act of doing so serves as a reminder of just how ancient Japan's onsen culture is to the people who call this majestic country home.
Set directly on the Pacific Ring of Fire, Japan is comprised of 7,000 islands, 200 volcanoes, and an estimated 25,000 hot springs, so it's no wonder given how ubiquitous they are that they've long played an important role in Japanese history.
Like most cultural traditions that go back thousands of years, there's somewhat of a learning curve and some etiquette involved here. Some pools are gender-specific or have a strict no-tattoo policy. There are also considerations about where (and when) you remove your shoes and protocols both before and after bathing. Keep in mind it's an experience to bathe completely naked with a bunch of strangers.
You could easily do a day trip to Hakone from Tokyo or head to a charming off-the-grid onsen town called Shuzenji on the Izu Peninsula. From where to go to what to know, here's how to go hot spring hopping across Japan right now.
Hop on a Romance Car and head to hot spring heaven in Hakone
One of the most popular day trips for locals and visitors outside of Tokyo, Hakone is an easy-access mountain getaway with plenty of onsens to spare. For one of the most unique experiences in town, Yunessun is an onsen-themed waterpark—but nothing like the raucous, slippery playgrounds in the US. Yunessun is complete with a coffee bath, wine bath, cave bath, sake and green tea bath. Popular with travelers of all ages, it offers one of the most scenic outdoor hot springs with views over the Hakone mountains.
There's plenty of traditional ryokans (Japanese inns) and bathhouses lining the banks of the Sukumo River, including Hakone Hatsuhana. Reopened in 2022, the hotel offers a mix of Japanese and Western style rooms, private and public onsens, and locally inspired cuisine at their on-site restaurant. Just downstream, Tenzan Onsen is a popular public bathhouse with an excellent onsite café to soak in the views with a drink in hand pre- or post-soak.
For the easiest and most direct route there, take the Odakyu Limited Express from Tokyo's Shinjuku Station. The "Romance Car" to Hakone-Yumoto Station takes about an hour and twenty minutes. Hot tip: pay up a bit and grab a seat in the front observation car for panoramic views along the way.
Head south to the "Hells of Beppu"
Steaming valleys, bubbling streams, and boiling sand beaches abound in the southern island of Kyushu, where the city of Beppu is home to more than 2,000 hot springs. Among these is the illusive "Jigoku Meguri," a course of eight hot springs nicknamed "the tour of hell."
Whether you're looking to stay in some seriously luxe digs (or have some travel points to burn), ANA InterContinental Beppu Resort & Spa opened as the first international hot spring hotel in the area. Every room comes with its own hot-spring-fed hot tub on the balcony with views over Beppu and the Sea of Japan in the distance. The on-site HARNN Heritage Spa's Memoir of Beppu spa treatment will immerse you mind, body, and soul with body brushing, clay masks, massages, and a bath ritual.
Set at the foot of Mount Yufu, Hoshino Resorts KAI Yufuin opened in August 2022and offers multiple indoor/outdoor hot spring baths in addition to traditional Kaiseki meals. Whatever you do, it's worth a visit to experience a traditional public bath at Takegawara Onsen downtown and Beppu Beach Sand Bath for a chance to be buried in hot, mineral rich sand.
To reach Beppu, it's about an hour and half flight from Haneda Airport to Oita Airport or six hours by Shinkansen (bullet train) Sonic Limited train from Tokyo.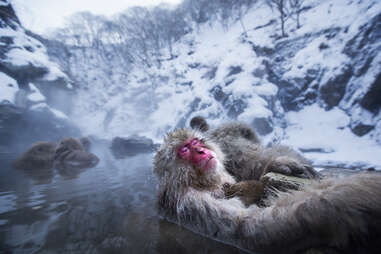 Soak with Japanese snow monkeys in Nagano
Home to the Jigokudani Snow Monkey Park, where adorable red-faced macaques come down from the mountains to warm up in the thermal pools, Nagano Prefecture is teeming with hot spring towns and ski resorts. If you head north, Nozawa Onsen is a sleepy village with 13 traditional-style public bathhouses and onsens dating back to the Edo Period.
At its heart, Nozawa Onsen Ski Resort is a great place to post up for a few nights if you want to hit the slopes—and an even better place to unwind and relax at the array of traditional onsens at the base of the mountain afterwards. Closer to the Snow Monkey Park, in the mountains of Nagano, Shibu Onsen is a traditional hot spring town that dates back 1,300 years. The town comes chock full of historical architecture and nine charming inns, including Kanaguya, a 250-year old ryokan with a mix of private and public baths.
From Tokyo, it's about an hour and a half train ride to Nagano via the JR Hokuriku Shinkansen.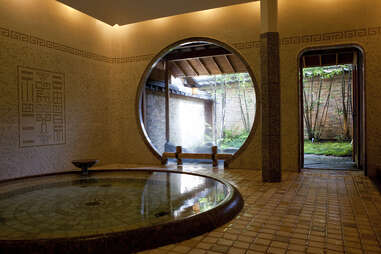 Step back in time at the seven mystic onsens of Kinosaki
A visit to Kinosaki is like taking a step back in time. Start your visit with a short hike to Onsenji Temple, where you can pay your respects to the shrine that started it all. From there, the town's seven mystic bathhouses are all within walking distance, and it's standard practice for visitors and locals to hot-spring hop their way around town in a yukata (Japanese robe).
While most of the ryokans have private baths, Nishimuraya Honkan is a nine-key boutique that offers garden-side rooms, some of which come with their own personal, open-air bath.
To get there, travel two and a half hours by JR Limited train from Kyoto or three hours from Osaka.
Seek serenity in Shuzenji, aka "little Kyoto"
Thanks to its small bamboo forest, ancient temple, and traditional ryokans, Shuzenji has been called "little Kyoto" minus the crowds. Named for the Shuzenji Temple, which dates back some 1,200 years, it's not only one of the oldest and most popular onsen towns along Japan's Izu Peninsula, it's easily the most beautiful. You'll find a bathhouse open to the public at Hakoyu and foot baths lining the river that run directly through town.
Arai Ryokan is one of the best places to post up and offers a mix of private and public hot springs along with 31 traditional guestrooms. The onsite restaurant offers a bounty of locally sourced seafood and produce, all of which comes with the freshly grated wasabi that grows in the region.
Just up the road, Asaba dates back to 1675 and is one the most luxurious ryokans in town. With cultural programming like their riverside theater production, the open-air onsen, and kaiseki dinner at the onsite restaurant, this inn will truly transport you to a bygone era.
After going two hours by train from Tokyo, take the JR Tokaido Shinkansen Line to Mishima Station. From there, take the Izu-Hakone Sunzu Line for about 40 minutes to Shuzenji Station.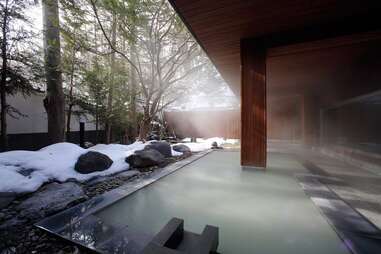 Head north for the healing hot springs of Hokkaido
Japan's northernmost island of Hokkaido is widely known for its world-famous ski resorts and vast mountainous terrain. But its abundance of outdoor natural hot springs and volcanic lakes have long made it a hot spring destination well worth the visit.
Inspired by the indigenous Ainu people who once lived here, Kai Poroto is an artsy onsen hotel that opened in 2022. Set along the coast with views over the eponymous lake, the ryokan offers a generous mix of western and Japanese style rooms and suites.
Head about an hour down the coast and you'll find the resort town of Noboribetsu, which is renowned for its natural thermal hot springs and volcanic crater called Jigokudani. Called "Hell Valley," this crater is one of Hokkaido's most legendary locales for hot spring seekers.
There's plenty of places to hang your hat here, but for your own private in-room onsen, head to Bourou Noguchi Noboribetsu. The retreat offers one of the sleekest stays in town with a killer kaiseki dinner experience to match.
To get there, take an hour and a half flight from Tokyo's Haneda Airport to Sapporo's New Chitose Airport.
Want more Thrillist? Follow us on Instagram, Twitter, Pinterest, YouTube, TikTok, and Snapchat.
Michelle Gross is a bonafide Japanophile. In addition to her love for onsens, she's a big fan of Japanese whisky, okonomiyaki, and after much deliberation, tonkotsu ramen and an icy Sapporo over all else.

link