The experience of travelling in Japan is simultaneously overwhelming and freeing. The world feels bigger out there, gilded by how mainstream video game culture is in comparison with the west. It doesn't feel like a subculture; it is ordinary. For example, I walked into a FamilyMart for a snack one afternoon, and found a Legend of Zelda: Tears of the Kingdom promotional mushroom tart (which was delicious). The little bright-green payphones along the streets are the very same as those used in the Resident Services in Animal Crossing. Narita Airport even has an entire Nintendo display welcoming jet-lagged passengers fresh off the plane. As a western tourist on a personal pilgrimage, there is so much to find and be surprised by.
Here are some recommendations for fellow video game fans planning to explore Japan:
Akihabara, Tokyo
This district didn't get the name Electric Town for nothing: it is brimming with video game culture. The skyline is roaring neon – it's worth visiting at sunset to get the most impact. If you spot some of the maids from the maid cafes on the street waving in punters, don't take pictures of them; give them a wave and be polite even if you don't want to dip in to have tea served to you by a girl (or boy) in cat ears.
There are dozens of arcades and shops that sell new and secondhand video games, consoles and merchandise – no matter what you are looking for, be it a Game Boy Micro or a highly specific statuette of a Final Fantasy character, you have a good chance of finding it here. Be prepared to go up plenty of sets of narrow, winding stairs and take your time rummaging.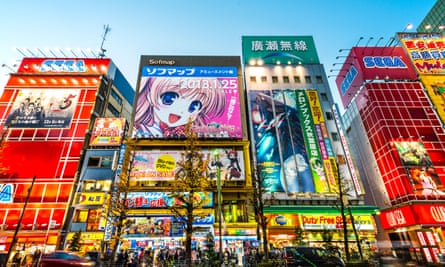 Super Potato is the jewel in Akihabara's electric crown. Down a narrow corridor and up a tiny elevator, there are floors of games from every era, the beloved and the niche. Though the majority will be in Japanese, some of them region-locked, there is joy to be had browsing what feels like a museum, even if you can't read kanji. Seeing so many different kinds of video games from throughout time in one place gives a real sense of how far the medium and culture have come. There are stacks of old game guides and magazines to leaf through, displays of merchandise from huge game releases of years gone by: a lifesize statue of Fox McCloud stands proudly at the cash desk. An atmospheric little arcade is on the top floor, too. If you haven't time to give Akihabara a full afternoon or evening, Super Potato is the place to swing by.
My favourite spot after an evening trawling around is Barfly's Stomp, a tiny punk bar (and shop) tucked away on a side street. It's the perfect little bolthole to take the edge off the overstimulation that comes from an hour wandering around towering electronics stores such as BicCamera, or to decompress while you work out how to fit a vintage translucent pink Nintendo 64 in your suitcase.
Alternatives: Jon Doyle, director of specialist video game book publisher Lost in Cult and regular Tokyo visitor, also recommends the hobby shop and game museum Suruga-ya, and the vast book store, Book Off. Guardian games correspondent Keith Stuart suggests the Final Fantasy Eorzea cafe and Monster Hunter bar.
84 Hashi, Tokyo
This is a tiny hidden bar run by Toru Hashimoto, who contributed to some of the most well-known games in Nintendo's history, including Pokémon Red and Green, Yoshi's Island, and EarthBound. 84 Hashi has been a drinking spot for Nintendo employees of times gone by, but opens its doors to tourists during limited hours, with customers led by a friendly interpreter. The walls are covered in original illustrations and signatures, and there is a display case with objects in it that made me – a lifelong Nintendo enthusiast – gasp. Booking in advance is essential – the booking fee covers a cocktail, some snacks and a delightful gift. I found the experience priceless.
Nakano Broadway, Tokyo
This dense, elaborately decorated space was built in 1966 as a luxury shopping mall, but is now a 13-storey vintage paradise. There are vintage video game shops, vintage toy shops that seem to contain every obscure 90s toy I ever pined after, crowned in the upper levels by Mandarake, the doorway to which is built out with bright red torii gates, giving it the feel of stepping through a portal into a slightly different world. Among the ephemera and video games, there is also a cosplay store, a fantastic record store, a movie poster store (I secured a Japanese poster of Luc Besson's Fifth Element, which is now framed on a wall in my home), bookshops and shops full of unboxed gashapon toys, and a bright, busy arcade on the ground floor before you break into the labyrinthine hallways of nostalgia.
Shibuya Parco, Tokyo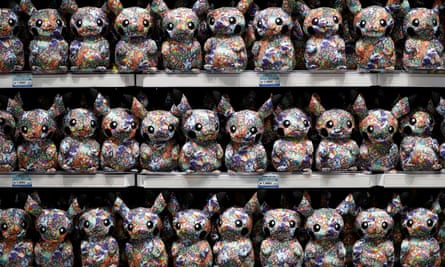 The Parco at Shibuya is far more glamorous than any of the other retail experiences I have listed here, and is tucked away off the main drag at Shibuya. The mall contains high luxury fashion concessions, but up on the top floors there is also a Capcom store, a Nintendo store and an elaborate Pokémon centre. These can be very busy but, if you visit midweek or in the morning, you should have your run of the floor. The Nintendo store and the Pokémon Centre have huge statues of beloved characters – a Mewtwo in a tank, sinister with his eyes closed, and a joyous Isabelle welcoming you into a realm of Animal Crossing homeware. Out on the balcony, overlooking the neighbourhood, there is a statue of Mario, pixelated as he was on the NES, jumping out of a pipe. There is something in the presentation of each of these spaces that I find touching: a sense that video games are to be celebrated, rather than hidden away.
Character cafes
While I was wandering around Tokyo Station's Character Street (a zone in the underground mall full of franchise-oriented shops, including another Pokémon Centre and a Studio Ghibli gift shop), I came across a large queue for the Kirby Café. It is common to see people lining up for snacks and experiences in Tokyo, but this was a line punters couldn't even join without a reservation. However, the cakes and treats on sale were beautifully and elaborately presented, and there was a limited set of merchandise (Kirby in a chef hat!) for sale. Booking is usually essential at the character cafes that pop up for a few months across Tokyo, which leaves little room for spontaneity. The exception to this rule seems to be the Pokémon Cafe in Sunshine City Mall, which has been open long enough that if you catch it at a quiet hour, you can get a little palm-sized Pikachu-shaped waffle and a latte in a Pokéball-themed cup while you stand surrounded by sculptures of various Pokémon dressed in adorable service outfits.
Character cafes can be found in major cities throughout Japan. It's worth doing a little research in advance of your trip to see if there are any new character cafe pop-ups in your area of interest, and booking ahead so you don't end up craning your neck across a line of people to see what kind of Kirby cakes you're missing out on.
Alternatives: Andy Robinson of gaming news site VGC recommends Star Club in Shinjuku: "a small izakaya themed on the famous plumber".
Super Nintendo World, Universal Studios, Osaka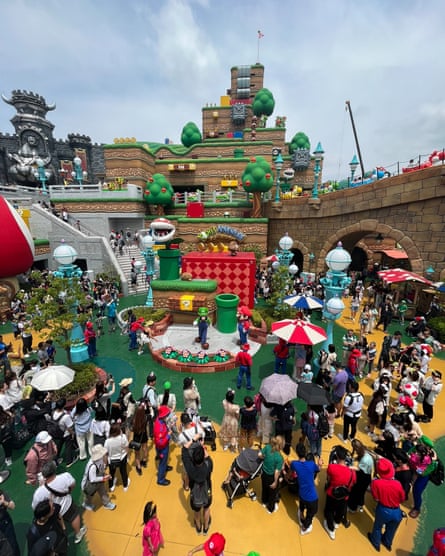 While this was a wonderful experience, I would like to stress how complicated accessing the Super Nintendo World zone of Universal Studios is. Due to the tricky ticketing system, we opted for an old-fashioned access route, arriving at the park at 7am, hoping we would make it into Nintendo World before it hit capacity. This required something of a sprint through the streets of Universal to get through the enormous green pipe and into this vivid rendering of the Mushroom Kingdom. We arrived breathless, but thrilled. Seeing the world once confined to television and Game Boy screens rendered larger than life is almost shocking.
Visitors are urged to buy a wristband that allows them to interact with the sculptures in the park. These allow you to compete via an app for who scored the most "points" – ie interacted with the most objects – every day. The rides are delightful (though the lines are brutal, as expected) and Toad's cafe was a welcome respite from the heat and crowds, though I am certain we were only able to get a table because we arrived exactly at opening. Our experience was good, but crucially hung together on the fact that we got to see all the things we wanted before the park became completely overwhelmed by people. It's also very clear that this is an elaborate day trip that may be prohibitively expensive for family groups, at whom it is ostensibly aimed. This trip requires a firm strategy and a budget, and will depend on the individual's tolerance for theme-park intensity and prices.
Alternatives: While you're in Osaka, Robinson suggests a trip to Space Station: "It's a wonderful retro games bar where you can play Nintendo, Sega or modern PC games right on the bar with a delicious cocktail."
Kyoto
I asked Kyoto-based game developer Liam Edwards of indie studio DenkiWorks to recommend some extra treats in his home town. "Cafe La Siesta is a gaming-themed cocktail bar, in the heart of Kiyamachi, the drinking area. It's near Teramachi, so right in the middle of the shopping areas. Game Bar Clantz is another gaming bar that near Teramachi. A-Cho used to be a famous arcade – it has modernised a bit since, but you will find classic cabinets there. As for game stores, A-Too is a famous old video game shop near the golden temple (). Surugaya is a chain, but still pretty top notch for retro game shopping."
Andy Robinson also recommends Famicom Bar: "It's a retro-themed drinking hole decorated with colourful classic Nintendo games – and some are available to play."
link